Do you know how to grow grapes?
prepare your soil before you plant a grape vine?
fertilize and irrigate your grape vine?
train your newly planted grape vine?
prune your grape vine?
prepare your grape vine for optimum grape production?
decide when your grapes are ready for harvest?
what to do after you have enjoyed the fruit of your labor?
No problem!
I own an export grape farm in South Africa, and with more than a decade of grape growing experience, I am sure I can help you grow your very own grape vine.
No matter where you are or what you are going to use your grape vine for, the most important thing to remember is:
Your grape vine needs to be a well trained, well pruned and disease free plant!
How many ways do you, the "home grape grower" know how to "SUPER CHARGE" your grape vine?
To be perfectly honest, I think there's ONLY ONE available on the Internet and you've just stumbled on it!

Take a look at this picture ...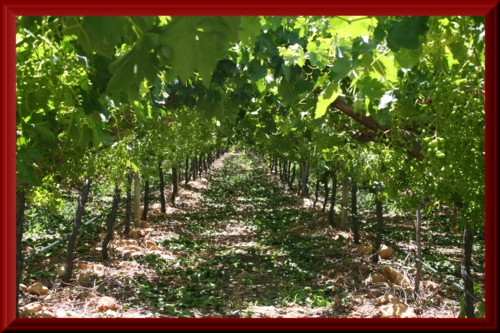 These grape vines produce 7 000 + cartons of grapes per hectare EACH AND EVERY YEAR!
That is more that 32 000 kilograms
(70 547 pounds) of export quality grapes per hectare each year!
You reckon I'd know something about growing grapes?
See, most home grape growers spend all their time conjecturing some secret grape growing, thumb sucking theory, but when it's time to get down to 'showing' the grapes, well guess what?
They do not deliver!
Do You Know Of Any Grape Grower That Knows
How To Grow Grape Vines, That Produce 42 Pounds Of Grapes On A Single Grape Vine?
Pardon my impudence, but I think not.
Think about it. 42 Pounds of grapes on a single vine!!
Here is proof that the methods I use for growing grapes are
simply the best available on the Internet.
Export Quality Award
(Click on the following image)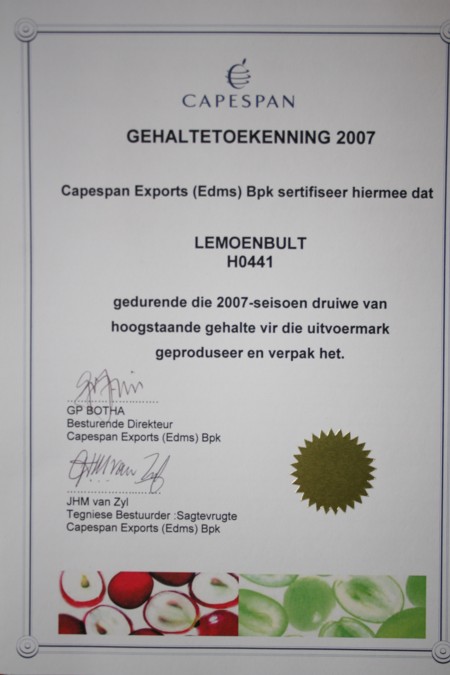 Would You Like To Learn How To Grow Grapes,
So You Can Produce Almost 'Obscene', Consistent
Crops of
Top Quality Grapes with berries
like this?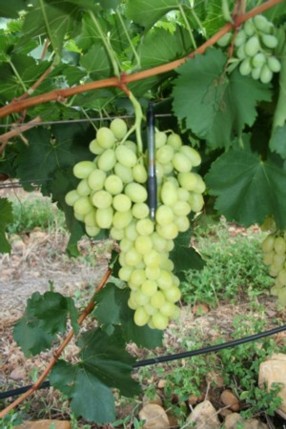 Unreal? Then How About This?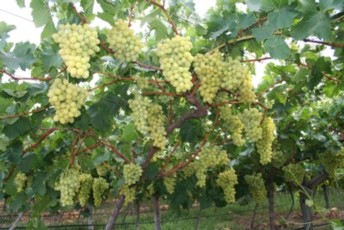 Or this?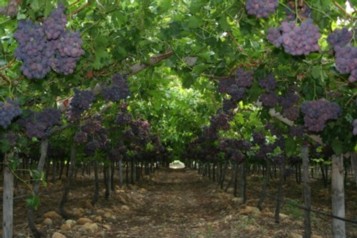 Or even this?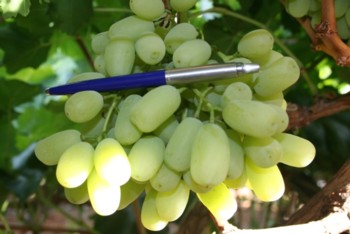 Yes Danie, I would love to learn your secrets
for growing grapes like that!!!
The Complete Grape Growers Guide
$27.95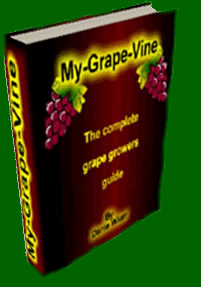 Click on the button below to order your
grape growing guide now, and you will
get instant access to all my grape growing secrets
plus
I'll throw in some bonus products as well!

Please note that this is an e-book and
that you will not receive a physical book.
If You Order Right Now, I will Give
YOU These Bonus Products
Absolutely FREE!


Here's the deal ...
The Complete Gra

pe Growers Guide
all

the bonus products, worth

$120
Total value = $200!

All for only $27.95!
worth $20

Hundreds Of Easy To Follow Ideas, Tips and Shortcuts To Create The Perfect Lawn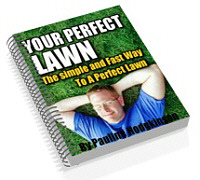 Organic Secrets
worth $19

"This fantastic, easy to follow guide book is written for both the amateur gardener and the enthusiast alike."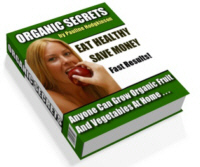 Top 20 Gardening Tips
worth $9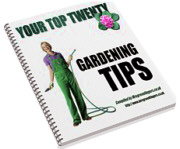 Vinegar For Your Health
worth $7.95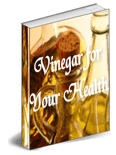 101 Camping & Outdoor
Recipes
Worth $14.97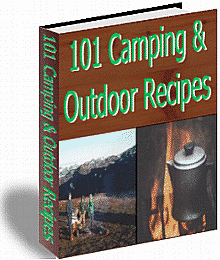 Quick and Easy Cooking
worth $12.97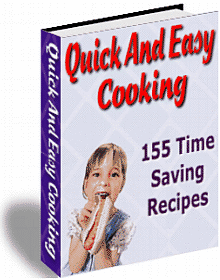 Recipes From Around
The World Vol 1 & 2!
worth $14.97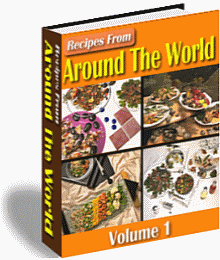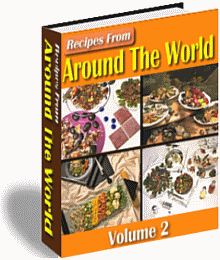 And Finally, a Mystery
Product Worth $47.95!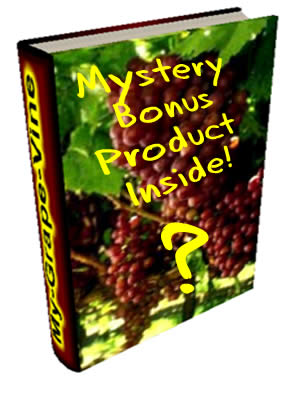 Let me give you a clue!
This product will allow you
to drink your grapes!
How to make wine???
Order now, you won't regret this!

Still Not Convinced?
Then My Question To YOU Is This...
Would you like to go through all the trial-and-error, the failure and disappointments, and the lost time and money -- just so you can figure out these growing grape shortcuts by yourself? Or would you like to save yourself a bunch of money, time, and frustration by learning from someone who has already been through all of it -- so they can just hand you only those methods that really work, the stuff that can have your grape vine in production quickly and easily!
You see, the biggest lesson I've learned in the grape growing business is that TIME is your most valuable asset. And time is something we don't always have!
I'm willing to share these shortcuts and techniques with you, if you're willing to invest in your grape vine, and in yourself, so that you can start growing the Ultimate Grape Production "Machine"!
The ball is in your court.
All that remains is you deciding whether you want to own the most perfect grape vine and produce the best quality grapes there is and experience the joy of producing your very own grapes from your grape vine which most people can only DREAM about.
And if you think that there is really an easier way for the the home grape grower to succeed in growing grapes, then all I can say is "sweet dreams my friend"
Read what others say about
"The Complete Grape Growers Guide"
It is with great pleasure that I am writing this.

I am Tina Barnes from New Zealand. After receiving the My Grape Vine e-book and beginning to read it, I simply could not put it down. This book is so well written that even a person with no knowledge at all about growing grapes can easily understand and follow the directions given.

The drawings and photographs are excellent and make this a very user friendly book indeed. The written work is very easy to understand and is not complicated by a lot of scientific jargon. I commend Danie on an excellent product and I recommend anyone considering growing their own grapes to buy this e-book.

I am looking forward to putting this knowledge to good use and growing the best grapes that I can for my family.

Regards
Tina

---

Hi Danie,

I have finally finished reading your book and I am very pleased to have purchased it as it contains valuable information for novice backyard grape growers like me. I know I will continue to use it as a reference for years to come!

It provides an excellent guide with comprehensive details to assist the enthusiast grape grower in achieving a successful outcome for years.

Regards,
Richard M.
Perth, Western Australia

---

Hello Danie,

Even before you put your "Grape-Growing-Book" on line, I was very
impressed with your informative web site in assisting "us" home gardeners, with your detailed knowledge of how to grow a grape vine.

You explain, in layman terms, the terminology about the grape vine itself. Not, as I have experienced with pamphlets from the Dept. of Primary Industries here in Queensland, Australia. Full with technical terms and names for every part of the vine. Very hard to understand for "us" the amateur grape grower.

But, WOW, with the release of your "Grape-Growing-Book" you have surpassed yourself. What a fine and easy to understand book it is. Step by step, in every day language, you explain the facts about growing a grape vine. The drawings, sketches and pictures are a fantastic source of information and clarity.

I am certain that your book will become the home grape vine grower's first choice of "how to". I can highly recommend it to present and novice growers.

Thank you so much for imparting all your knowledge and help with this book.

With best regards,
Fred H.
Queensland,Australia.

---

Dear Danie

There are several vineyards in the area which are tended by the local wineries, and I am looking for a crop I can raise on a small acreage that would give some return over an extended period of time. Grapes have always intrigued me and now I have a chance to try them out.

I purchased your book in the course of research and must say it is the most informative and most user-friendly volume I have yet come across.


I look forward to you continue blogs and information
Very respectfully,

Alan D.
Marsing, Idaho

---
Why wait to to learn the art of
growing grapes
?
It's time for YOU to show your neighbors
and friends that you've learned the art of growing grapes
and that you CAN be a successful grape grower!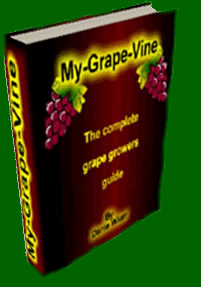 For a Investment Of Only
$27.95
You get all the grape growing techniques
I use to produce MASSIVE crops
of top quality grapes - Year After Year!

PLUS

ALL the Bonus Products
absolutely FREE!



OK, to show you how confident I am in my growing grapes product,
I will give a you an 8 week, 100% money back guarantee
if you find this product not useful!
Why do I make such a crazy offer?
Because growing grapes is a way of living, a passion shared with only those who really love their grape vines. In fact, I wouldn't like to keep your money, if you aren't satisfied with my product!
NOTE:
This grape growing product is an e-book and
you will not receive an actual book
The E-Book is in PDF Format.
You can download Acrobat Reader by
clicking here
---
Copyright © Danie Wium - "The Grape Guy"
All Rights Reserved.